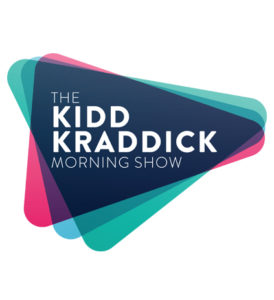 MONDAY to FRIDAY -- 06:00 AM - 10:00 AM
The Kidd Kraddick Morning Show is the most-listened to contemporary morning show in America.  Wake up with the Kidd Kraddick Morning Show weekday mornings from 6am-10am on J104!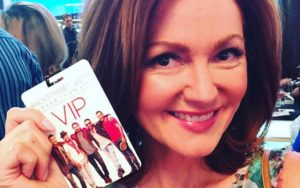 Kellie Rasberry
Kellie Rasberry began her radio career at the age of 19 in her hometown of Florence, SC. In 1994, she joined "The Kidd Kraddick Morning Show" and has called it home ever since. Kellie has always stayed true to her Southern roots, often using her disarming style to serve as the show's voice of reason. Gutsy and opinionated, she's often told, "You said exactly what I was thinking!"  In addition to co-hosting the nationally-syndicated "Kidd Kraddick Morning Show," Kellie also co-hosts the "A Sandwich and Some Lovin'" podcast with her husband, Allen Evans, and the "Love Letters to Kellie" podcast with Robert Ehrman. In 2019 Kellie was honored to receive the Gracie Award for Outstanding Co-Host from the Alliance for Women in Media, as well as the Airblazer Award from the Mentoring and Inspiring Women in Radio Group.  Kellie and her husband Allen are the proud parents of Brooke, Emma Kelly, Cole and Dylan, and two rescue dogs, Larry and Zoey. In her spare time, Kellie is known to spends hours wandering the aisles of her favorite discount stores or watching reality shows involving home-decorating or housewives.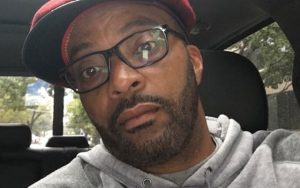 Big Al
Even though Big Al is rumored to have spent a few years in Compton and is a self-proclaimed "O.G.", he is actually a country music fan. In fact, he recently met Blake Shelton and Blake even gave Big Al a kiss on the cheek and a ride in his helicopter.  Speaking of being an "O.G.", Big Al claims to have been shot years ago…but somehow, there is not a single scar.  In the evenings, you will either find Big Al Buying more plants or at his restaurant/bar singing karaoke with friends.  Big Al can't swim but he loves the beach and hopes to buy a boat someday!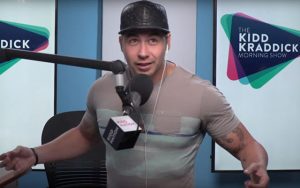 J-Si
Let's see… here is a lil' bit about me: I was born in Mexico City and made a living by selling Chiclets. I pretty much made a killin' with a whopping $487.75 a year. I was kicked off my corner by a much bigger and stronger kid, so I gave up selling Chiclets. I was even inducted into the Chiclets Hall of Fame. Ok, I am kidding about the selling Chiclets… or am I? I like to be mysterious.  My family moved to California when I was 8 years old and on my first day of school 3 older kids jumped me and stole my popcorn, so I had a tough start, but I did end up making friends and having a fun childhood.  I ended up growing up physically (my mind is still stuck in 8th grade) and fell into radio. How? I have no idea. It literally just happened. I actually wanted to be a nurse or a doctor. Both of my grandfathers are doctors in Mexico. Speaking of that, I met my biological father when I was 23. I was also able to find my moms birth mom because of DNA websites… so I like to do some investigating on the side.  I have two dogs we adopted: Coco and Piper. Piper is a super calm dog and all around good girl, and Coco is our problem child, but we still love her. My wife's name is Kinsey. We have been together since college. I met her at San Diego State University at a party, and have been with her ever since. She is a California girl who loves to shop, and she's an awesome mother. I also have a boy named Cason! He's a stud. I coach his football team, and being able to be around the sport! I also have a girl named Chloe. She's the sweetest little girl and loves to make dancing videos, and cheer! I am a HUGE football fan, and I love playing video games… told you I'm a kid at heart 😉 I have met tons of awesome celebs thanks to this job… except my idol Eminem… maybe someday it will happen! If you wanna be friends or interact, hit me up on Twitter, or Instagram, or even Tik Tok!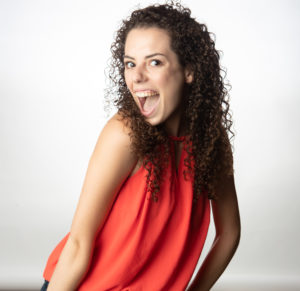 Ana
Hey I'm Ana! While I started working on the show in 2014, it feels like I've been part of this family my whole life since I grew up listening every morning! It's wild to think that now I'm part of the conversations with Kellie, Big Al, and J-Si every single morning! I went from long time listener, to intern, to full time employee! I started behind-the-scenes working with KiddTV and the video production team, but somehow my wacky ideas for bits like the "Midweek Update" evolved into getting my own microphone on the show! It's been the biggest blessing and a growing career that I am extremely proud of! Some of my hobbies include binge watching shows on Netflix, making silly videos of my rescue dog Buster, and breaking down every single lyric that Taylor Swift has ever written. There's truly nothing I love more than pop-culture and entertainment, so getting to talk about music, trends, and celebrities on the morning show has always felt like a perfect fit for me!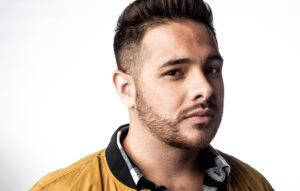 Part-Time Justin
It all started when Tyra Banks asked for my phone number. I had skipped my Women's Studies class in college to make it to a 2 p.m. phone interview with Tyra at the Kidd Kraddick Morning Show studio! I was an intern here and I was a hot mess express in that interview, asking questions from all over the place, but I couldn't help it. The next day the producers told me my interview with her went so well she wanted my contact information, asked for my phone number and started following me on Twitter! I got promoted from Intern Justin to Part-Time Justin and now I'm full time on the show but I still go by the name "Part-Time Justin" because part-timers are always hustling out there and that's wut i be doin "." I grew up in a bi-racial home. I'm Latino and white and I have a sister who is 3 years younger and she is my best friend! I am gay, in my 20's and have an adorable golden retriever named Beau! Bar food is my weakness and gourmet cocktails are the way to heart. I love DIYs and putting together furniture from IKEA. You can find me doing TikTok dances under the disco ball or at home chillin' watching Ru Paul's Drag Race. I have a podcast called "Shut Up!" that I co-host with my buddy Producer Nick Adams. We are so opposite you will get both sides of every juicy gossip! If you see me around or ever want to talk just send a shot of tequila my way! Aye!!!! 🙂